Hanafi
---
Exhibitions - Events
---
"Journées de la Culture du Québec 2011"

Hanafi participates in the "Journées de la Culture du Québec", from September 30th to October 2nd, 2011, in the Place Pasteur in Montreal ( at the corner of De Maisonneuve Boulevard . Metro : Berri-UQAM ). He will be present every day from 2:00 pm to 7:00 pm, to supervise the public in the reproduction of his works in huge size.

The objective is to make imply the public and to make him discover and appreciate the arts and the culture. It's about "Monster Mural" which will consist of two panels of 15 feet x 5 feet (4.5 m x 1.5 m).

The images are inspired by the works of Hanafi: "Tempête de neige"; "Une partie de hockey"; and "Halloween". Every "Monster Mural" will be colored by the public with the painting, in the style painting with number.

It's a big cultural event which implies more than 300 cities and villages through Quebec. The wall ended could be showed in the various branches of the TD Bank through Quebec.

The project is realized with the support of the TD Bank in partnership with the agency BOB communications.

Welcome to all !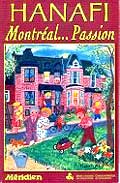 FLASH - INFO
The Exhibition Lands within Me, in which Hanafi took part, and which was presented at the Canadian Museum of Civilization from October 19, 2001 to March 9, 2003 accomodated beyond 200 000 visitors.

As regards the book of art " HANAFI : Montréal... Passion "
ISBN-2-89415-143-8, Co-edited by the Canadian Museum of Civilization and Les Éditions du Méridien is out of print. For any further information :

Canadian Museum of Civilization BOUTIQUE
100 Laurier Street
Hull (Quebec) J8X 4H2 CANADA
Phone : (819) 776-8235 or (800) 555-5621
Fax : (819) 776-8209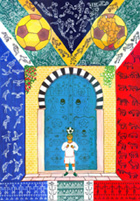 "Fine Art Exhibition"
FIFA Worl Cup South Africa 2010
Hanafi has participated in the exhibition "2010 Fine Art Exhibition" which was organized in partnership with " FIFA World Cup South Africa 2010" and which lasted five months. From March 11, 2010, Until July 31, 2010. The exhibition was covered by big international media, among others, the New York Times, CNN and the BBC.
Official WebSite : 2010 African Fine Art

Studio d'Art Hanafi / Artist's Studio
(Only by appointment)

2715, place Darlington, Suite 206
Montreal (Quebec) H3S 1L4 CANADA
Phone & Fax : 514-733-8996
E-mail : hanafi44@hotmail.com
Galerie naïfs du monde entier
8, rue du Pas-de-la-Mûle (au coin de la place des Vosges)
75003 PARIS, FRANCE
Phone & Fax : (1) 42 78 71 57